TH | ENG
#MyPersonalBest
About
2019, Tri Sim was a simulation racing program of triathlon, without timing chips. More than 30 athletes participated.
In 2021, Tri Sim was developed to be a short triathlon racing program. Our aims are to measure ability, develop performance, and prepare athletes for longer triathlon racing.
Chip Timing is operated for everyone to record their progress. Furthermore, athletes can collect the scores then get the prizes of each 4 states and Overall prizes by the end of the year.
Start with race yourself, beat yourself, win your best time #YourPersonalBest
Distance
Swimming 400 meters (In standard swimming pool, 4 rounds of  50 meters)
Cycling 20 kilometers (1 round along canal road)
Running 5 kilometers (4 rounds )
Event Map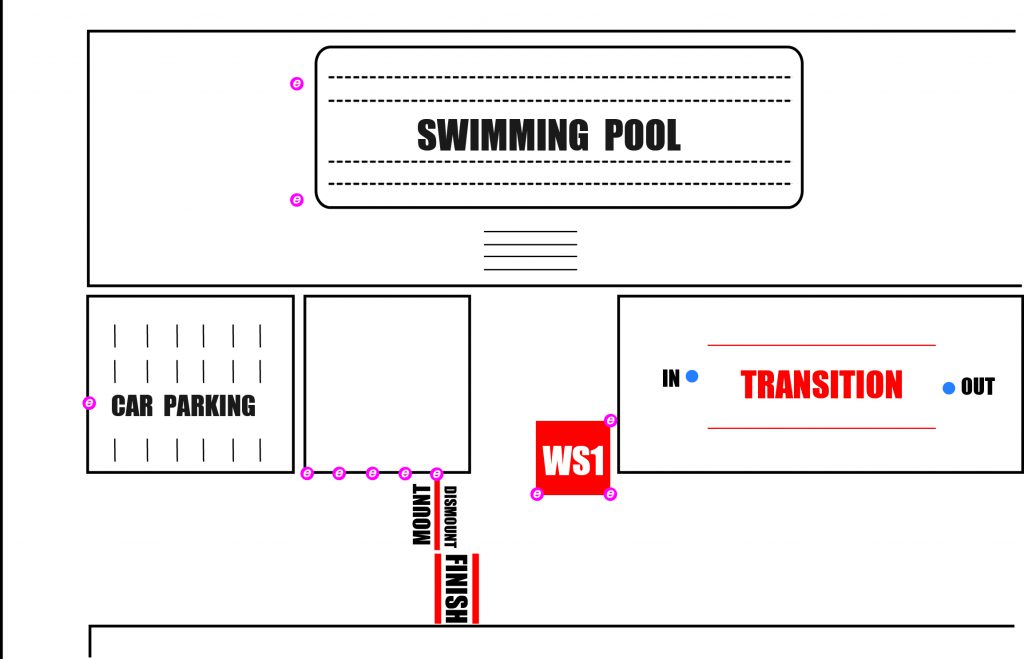 Bike course
Red zone is quite dangerous, please be careful

Run course
Race Categories
Resulting around 10.30 am
Place
Ubonratana Ratchakanya swimming pool of Maejo University, Chiang Mai
https://goo.gl/maps/9jEnqFjFBmUdhSzT6
Date
Race 1, 13 March 2022
Race 2,8 May 2022
Race 3, 17 July 2022
Race 4, 11 Sep 2022
Race schedule
6.00 Transition Open
6.45 Brief for triathlete
7.30 Swim Start
11.00 Award and lucky draw ceremony
11.30 Cut off time
Goodies
1. BIB number (please bring with your race belt)
2. Sticker number for putting on helmet
3. 1 of Running T-shirt by I Am Sport wear
4. 1 of energy bar from Fruit bound
5. 1 of Tri Sim token when finish the race within 4 hours (Collect 4 tokens to build a master token)
Racing Prizes
3 Trophies and gifts from sponsors for men 
3 Trophies and gifts from sponsors for women
Scoring and Prizes of 2021-2022
Position and point in each race
3 most point collected of men and women will get an elephant doll and gifts from Bike Zone
In case of same collected points, priority is for higher position of the last race
Race Rule
General
Accept risk or the accident that might happen
Listen to the rule of racing before start
Please wear a mask for protecting the risk of Covid-19 all the time before and after race
Prepare your equipment: bike, helmet, Swimming goggles, etc.
Park your bike at the correct number place and put other equipments in front
Take the garbage in the arranged place
 
Swimming
Put your BIB number with you while being around swimming pool area then give to the staff before swim
Headphone is not allowed to use
Please swim in organized route and count the round by yourself
Only swimming suit or tri suit can get into the pool
Cut off for swimming section is 8.10 am
Cycling
Get on and get off the bike in the right place
Keep left along the road all the time
Ride legally, the traffic is not closed
Do not follow others people closer than 5 meters
Any kind of bike that come with braking system can be used
Wear helmet all of the cycling time, if no helmet not allowed to ride
Please wear top and bottom while cycling
Put BIB number behind
Be Careful dangerous in Red zone
No water station along cycling route
Run
Please wear top and bottom while running
1 water station located near the route
Run on the arranged route, keep left and count the round by yourself
Put BIB number in front
Cut off at 11.00 am
Give the Chip Timing back to our staff next to the finish line, The fee is 1,000 baht of lost
Should not leave valuables stuff in transition, no responsibility for organizer in case of lost
Respect the place, and other people
The organizer's decision is final
Sportmanship
The next state registration will open on race day
Prevention and control measures for the spread of COVID-19
All applicants, followers, spectators and staff traveling to the race
1.1 Must be fully vaccinated a
1.2 There must be an Antigen Test Kit (ATK) test by your self within 72 hours
On race day
Competitors must wear a mask at all times except when swimming, cycling, running. (There will be a place to leave the mask before going into the pool)
Temperature check at the entrance
 
Receive a wristband after finish passed the inspection. Please enter throughout the competition. For those who doesn't have a wristband is unable to enter the event.
Entry Fee
1 race for 950 baht
Package 4 Race 3100 baht
Close Registration
Race 1 Close 1 March 2022
Race 2 Close 30 April 2022
Race 3 Close 30 June 2022
Race 4 Close 31 August 2022
Registration
Registration link : https://forms.gle/5HszeM38WxGDXJKm8
Hand in proof of payment link : https://forms.gle/6kcnCJ7wNnJ8GG4U9
Registration 100 slots/Race
Note
No refund
No changing slot to other name as register
No transferring registration to different or next state
Sponsors